Shoes: Prada Bow Flats (
similar here
)
At only 5' 2" tall, I am no stranger to high heels. I'm usually stomping around in a pair of heels all day, everyday. But sometimes I have that moment where my feet literally stop me in my tracks and start yelling, "WE NEED A BREAK." When that happens, you can find me propped against the nearest solid structure rummaging through my bag for my emergency flats. For me, emergency flats should be two things:
1. they should stand out and be just as interesting and faboulous as a five-inch pair of heels, and
2. they should be flexible enough to be folded and placed in my everyday bag.
These Prada bow flats are the perfect emergency flats. Not only are they extremely comfortable, they are also a combination of all of my favorite footwear elements wrapped up in one perfect shoe. Suede, patent leather and a gigantic bow - I definitely couldn't resist. I picked up this pair on sale at Nordstrom's last week and can't find the exact pair online, but I did find some similar flats that'll keep your feet stylish and happy. Steve Madden 'Karisma' Flats (
here
) $79.95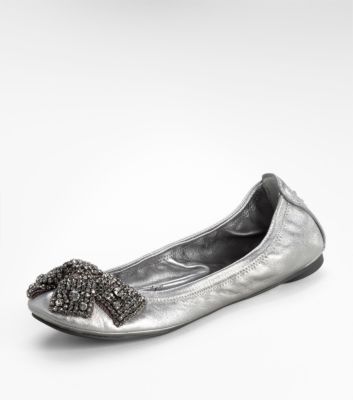 Tory Burch 'Eddie' Flats (
here
) $250

Aldo 'Dostie' Flats (
here
) $50